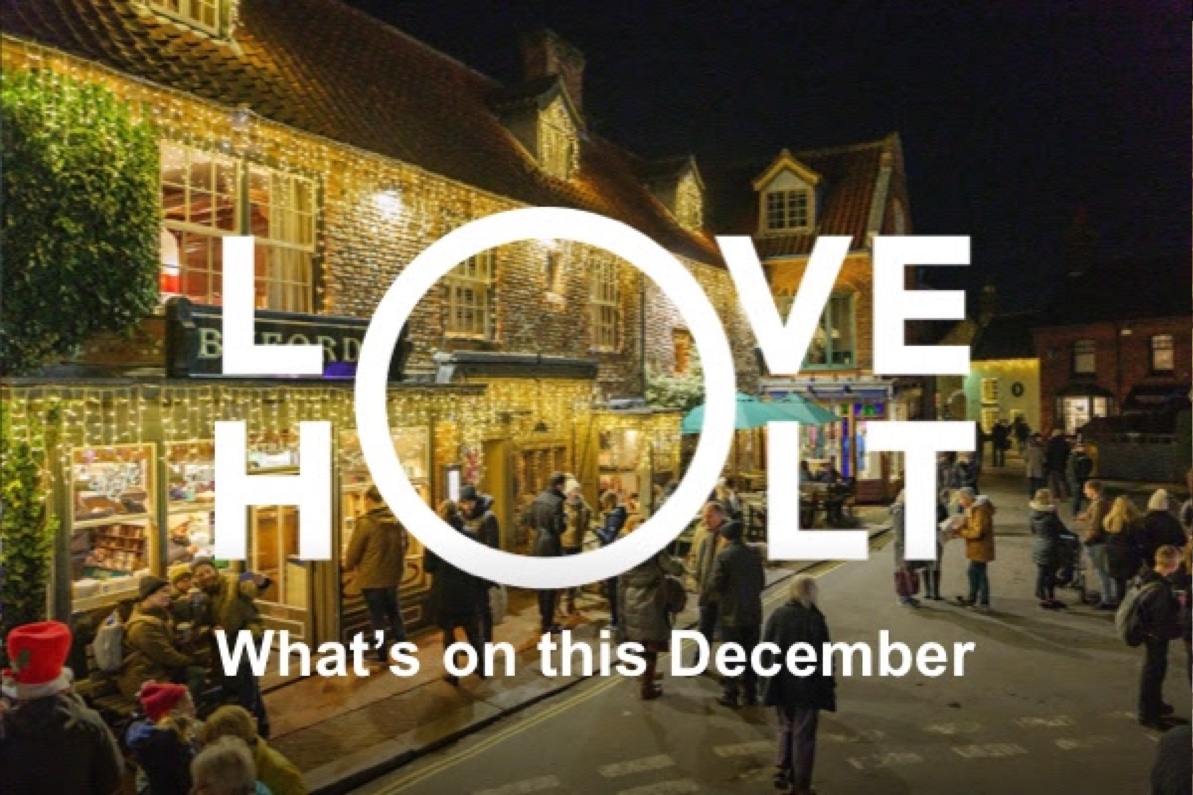 Holt Lights
Is there anything more festive to signal the start of Christmas than the Holt lights switch-on? According to the amazing amount of people that turned up in their droves, the answer is a resounding no.
Friday 19th November saw the Holt lights back with a bang after a two year hiatus. All the sparkle and magic you could want was poured into the evening. Consider us Christmas ready.
Christmas Makers Market
Returning for the final time this year is the Christmas Market and we're counting down the days. Over 45 innovative and talented local independent makers will be showcasing a wide range of Christmas gifts to inspire and delight. Whether you're looking for a gift for a hard-to-please relative, need inspiration for stocking fillers or want to buy some festive bakes to pass off as your own (we've all done it), you'll find it at Holt Christmas Market.
There's also the chance to sample exceptional street food and we'll have a whole host of live music to give you all the festive feels.
5th December - 10-3pm
Christmas Shopping In Holt
Looking to stock up on some amazing local produce to make your Christmas extra- special? Check out a selection of Holt's independent food stores here.
With party season just around the corner, now's the time to plan your festive outfit. With over 25 boutiques to choose from you'll be spoilt for choice.
Feeling Peckish?
Fast becoming a foodie hub, Holt is home to a huge array of cafes and restaurants. Whether you're after festive afternoon tea with the family, need a pit stop for a hot chocolate or something stronger, there's a huge variety of cafes, pubs and restaurants to keep everyone happy over the festive season. Find the full list here.
Kieron Williamson Online Winter Release Exhibition
Following on from the success of Kieron Williamson's Summer exhibition at The Gallery, he's back with an online exhibition of his latest portfolio of works entitled '2021 Winter Release'.
Taking inspiration from his homes in Norfolk and Cornwall provided Kieron with the opportunity to immerse himself in his surroundings and capture those memories and translating them onto canvas.
Holt Deconstructed in North Norfolk Magazine
Holt has been given centre stage in the latest edition of Norfolk Norfolk Living Magazine.
Get the inside scoop of their top picks of some of the best independent places to eat, shop & stay this Christmas and beyond.
CHECK OUT THE FULL FEATURE HERE >
Norfolking Around
Norfolking Around Having always had a huge fondness for Holt, it seemed a natural step for childhood friends, Alex and Becky to open their first independent shop here. Norfolking Around has already amassed something of a cult following thanks to its beautifully curated lifestyle products. With everything from luxury beauty gifts, covetable stationery to a whole variety of toys and books to keep the little ones happy, they've got something for everyone just in time for Christmas.